Performance Based Navigation (PBN)
Our DA42 (F-GUPM & F-GZJX) and our simulator Alsim AL42 are certified for PBN approaches following EASA regulations since the end of December 2016.
Following the EASA regulation (EU 539/2016), a specific training for PBN approaches must be followed by holders of a valid IR qualification and must be completed before 25 August 2020. After that date, the basic qualification without PBN will no more be valid.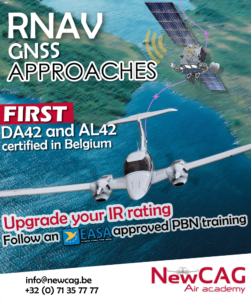 Prerequisite
Formation
8h of theoretical briefing
3h of simulator
Info and inscription : info@newcag.be